RAMAH INSTITUTE OF THEOLOGY HEADQUARTERS IN INDIANA
What is Ramah?
Ramah Institute of Theology headquarters located in Indiana is a Program Division of CDC Ministry Fellowship, Inc.
Ramah Institute of Theology headquarters located in Indiana is an independent, Biblical Based, Educational Ministry to the Body of Christ; It's a part of a networking consortium of indepent bibical based schools of ministry.
LOCATION:
Phone (Ramah)219-413-4279
Office Hours M-F 10-6 pm (Ramah)

A DEEPER PERPECTIVE OF YOUR GIFTS:
These are diffcult times for believers in Christ, We do not always have clarity of what kind of church is going to be needed in the 21st century. But what we are convinced on is this, that churches are crying for biblically trained, spiritually minded, visionary leaders.
What gifts has God bestowed upon you for the renewed church God is developing? We will help you discover, understand, and affirm your readiness for training and leadership.
Ramah is designed for the serious student who desire to increase their biblical knowledge and spiritual insight.
Ramah specializes in a diversity of course curriculm and studies that will empower and motivate you.
Ramah will inspire and mentor you that feel you have a call to ministry.
STUDENTS CAN TRANSFER CREDIT HOURS INTO RAMAH. UPON THE STUDENT COMPLETING RAMAH'S REQUIRED CURRICLUM, THE STUDENT SHALL BECOME ELIGIBLE FOR THEIR DEGREE.
**RAMAH HAS A NEW COMPONENT CALLED, " THE ISSACHAR INSTITUTE OF PROPHETIC TIMINGS, MOVEMENTS, AND SEASONS " YOU CAN NOW EARN AN ACCREDITED DEGREE IN THE PROPHETIC.
**ONLINE COURSES ARE NOW BEING OFFERED, ON MONDAY'S AND WEDNESDAY'S . SEE COURSE SCHEDULE FOR DETAILS.
**RAMAH NOW OFFERS A COURSE ON SATURDAY'S. FOR DETAILS SEE COURSE SCHEDULE.

ALL LEVELS OF RELIGIOUS DEGREES ARE AVAILABLE:
1. ASSOCIATES
2. BACHELORS
3. MASTERS
4. DOCTORATES
AREA OF STUDIES ARE RELIGIOUS:
I. BIBLICAL STUDIES
II. CHURCH SECURITY
III. MINISTRY
IV. MINSTERIAL COUNSELING
V. CHURCH ADMINISTRATIONS
VI. CHURCH MARKETING
VII. PROPHETIC
VIII. THEOLOGY
VIIII.HUMANITIES
X.LINGUISTICS
MINIMUM REQUIREMENTS CAN BE FULFILLED BY SUCCESSFULLY TAKING AND PASSING THE ASAP(ADVANCE STUDENT AND PROFESSIONAL EXAM). YOUR SCHOOL TRANSCRIPT / DOCUMENTATION PERTAINING TO PAST EDUCATION, TRAINING, MINISTRY AND/OR ALE (ACCUMLATIVE LIFE EXPERIENCES) CREDITS WILL BE ACCEPTED WITH DETAILED SUMMARY AND DOCUMENTATION.
NON-DEGREE PROGRAM
THE CERTIFICATE IN CHRISTIAN STUDIES IS FOR THOSE DESIRING TO TAKE GRADUATE LEVEL COURSES IN THE THEOLOGIAL DISCIPLINES OR TO DEVELOP SKILLS IN THE CHRISTIAN MINISTRIES, BUT WHO DO NOT WANT TO STUDY FOR A CHRISTIAN DEGREE.
ALE'S (Accumulative Life Experience)
WILL BE ACCEPTED FROM MOST AREAS OF YOUR LIFE YOU HAVE WORKED IN A RELIGIOUS FIELD OR AREA. ONLY 1 CEU WILL BE GIVEN FOR EACH ALE ACCEPTED. COST IS $20.00 PER CEU ACCEPTED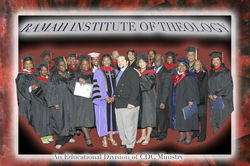 2008 CLASS SEE OUR OTHER WEBSITES BELOW
CLICK ON TO OUR OTHER WEBSITES
www.cdcmf.com
www.shermanhigh1.wix.com/sherman-high-school
Facebook site: www.facebook.com/DrCarol J Amos-Sherman
ADMISSION REQUIREMENTS BELOW:
ADMISSION INFORMATION
FEE SCHEDULE:
APPLICATION PROCESSING FEE: $150.00
ADMISSION AND REGISTRATION FEE: $150.00
PER COURSE FEE: $150.00
INQUIRE ABOUT DEGREE COST
TO REGISTER WITH RAMAH INSTITUTE OF THEOLOGY, ALL STUDENTS ARE REQUIRED TO SUBMIT THE FOLLOWING TO THE OFFICE:
1. A COMPLETED APPLICATION , APPLICATION PROCESSING FEE
2.A STUDENT PORTIFOLIO VITAE & ALL DOCUMENTATION AND SCHOOL TRANSCRIPTS.
3. ADMISSION & REGISTRATION FEE
4. 2' BY 2' SNAPSHOT
WHY WAIT! CALL TODAY GET STARTED WORKING ON A BETTER AND INFORMATIVE TOMMORROW!